Peter Renwick, Miner/Fee Dig Host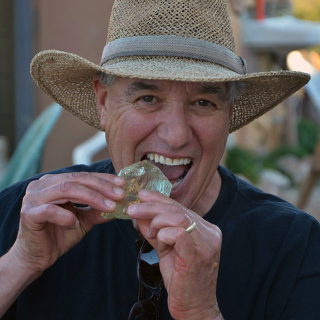 Left: Peter "testing" the gem quality of a superb specimen of spodumene var. triphane fresh from the Pala Chief Mine.
Peter is one of the original members of the Oceanview mining team, having been involved since the mine started in earnest in 2000. His interest in minerals and gems goes back to his boyhood in England. Peter's primary job at the mine is to host the Oceanview Mine fee digs, but he spends as much time underground mining as he possibly can.
Nicknamed "Pedro the Magnificent" by mine owner Jeff Swanger, Peter runs all aspects of the fee digs. He makes sure all the equipment is functional and ready to go, that the dirt pile is properly maintained, and that everyone who attends has a great time. If you simply attend a fee dig, you owe a lot of your experience to the hard work of Peter.
Peter's education is from the school of life. After completing his secondary schooling in England, Peter started work in London as an apprentice at a fishmonger and game specialist shop (as in wild game--grouse and the like) in the famous Leadenhall Market. From there his path eventually led to southern California, where he's lived for the past thirty years. During that time he's worked in many of the pegmatite mines, including the Himalaya Mine and the Stewart Mine. He's also worked in the Rogerley Fluorite Mine in England.
Right: Peter holding a perfectly-terminated gem kunzite crystal he has just removed the pocket behind him in the Oceanview Mine.
Peter has known mine owner Jeff Swanger for nearly thirty years, and when Jeff first acquired the Oceanview Mine, Peter joined him in helping to get the mine started. In the early days, Jeff, Peter and fellow miner Phil Osborn did nearly all of the mining at the Oceanview, laboring for several years to open up the tunnels before making any significant finds.
Peter's cheerful attitude and enthusiasm for the mine and the fee dig are infectious. His knowledge of the pegmatites and their minerals is expansive, yet he can discuss it with any audience from novice to expert.